Northern Ireland is a place were flags are often a hot topic. However it is also a place where flags are very often used, many communities often turn their street lamps and lampposts into make shift flag poles. Here is a guide to some of the flags that can be seen in Ulster. Most are from my memory so there are a lot more. Firstly I will start with politically neutral flags.
N
eutral Flags

St Patrick's Saltire or St Patrick's Cross.
Represents NI in UK flag. Often used as a cross community flag at St Patrick's Day celebrations. Used increasingly to represent NI, although technically an all Ireland flag. Also used in the Police Service of Northern Ireland Badge.
Irish Rugby Football Union
(IRFU) Flag. Irish Rugby team represents the whole island and usually use this flag.
Although in recent matches I have noticed the Irish Republic flag alongside the Ulster Flag which isn't really politically or geographically correct.
Cricket Ireland Flag
. Irish Cricket team also represent the island and used this flag.
Shamrock Flags.
Various plain flags bearing shamrocks are often used by people as a neutral flag at sporting events or St Patrick's day. At the last Commonwealth games in India fans of Eamonn O'Kane a (catholic) N.Irish boxer represent Northern Ireland carried flags like this.
The Starry Plough.
Takes the Star formation of the big dipper in the shape of a plough. This flag comes in three forms
It was first used by the Irish Citizen Army who were a socialist organisation which fought in the 1916 Easter Rising. Today associated with the Irish National Liberation Army(INLA).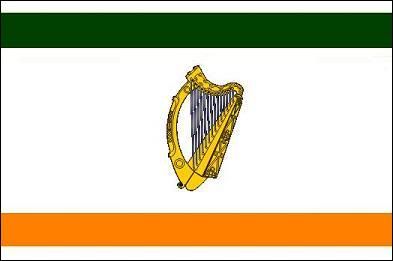 IRSP Flag.
The Flag of the (slightly militant) Irish Republican Socialist Party uses the Starry Plough on a red field, red flags having links with socialism and the starry plough links with the socialist Irish Citizen Army of 1916.
Harp Flag.
Many Nationalist flags bear a harp, these vary from form to form and can be seen on plain green backgrounds or even defaced tricolours. The green flag here is based on the colour of the (US) 69th regiment with Erin go Bragh(Ireland for Ever).
The province of Leinster flag is green with a harp, as is the Republic of Ireland's Naval Jack. A Green flag with a harp was used by Irish Catholic Confederates, and the United Irishmen in the 17th and 18th Centuries. A green flag with a gold harp was used as an unofficial de facto national flag by nationalists throughout the 19th and early 20th Century. A blue flag with a gold harp is used as the presidential standard for the President of Ireland (Republic) which is a banner of the national coat of arms, and a harp on a blue background appears on the Royal Standard and coat of arms (UK) representing Northern Ireland.
Commemorative Flag.
More Common in the Republic but not unheard of in NI. This flag commemerates the origional IRA who fought in the Anglo Irish Conflict and later formed the Republic's armed forces (Irish Defence Forces) it has no links to the modern Terrorist organisation of the same name. The badge is that of the Defence Forces.
IRA Flag.
Flags of the IRA terrorist group are normally based on tricolours some even bear weapons or clenched fists. These can still be seen in the more extremist areas.
Irish Union Jack.
A Union Jack in the colours of the Republic of Ireland. This is to show defiance to and insult the British.
Unionist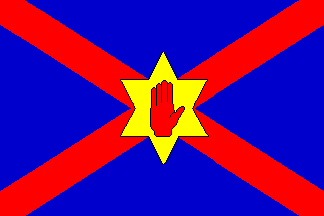 Ulster-Scots flags
vary often from maker to maker but nearly always consist of St Andrew's Saltire defaced with the red hand. Some designs have the red hand with thistle leaves. Many Protestants (in particular Presbyterian's) have Scottish backgrounds and have retained many aspects of their heritage and culture despite living in N.Ireland for about 400 years
Other Flags
Londonderry Flag, A crimson flag bearing the city coat of arms, occasionally used by Derry City Council over its administrative offices.
Redundant Flags
Flags that were once officially used but are now redundant