Last weekend saw events in Londonderry to mark the 70th Anniversary of the Battle of the Atlantic. Being the most western port in the UK, Derry was strategically very important. The Naval base, HMS Seaeagle was home to ships and personnel of at least seven nations. as well as the Royal Navy and Air Force, the Royal Canadian Navy and United States Navy and Marine Corps had bases in and around the city. The events saw two warships visit the city, the minesweeper HMS Bangor (named after an N.Ireland coastal town) and patrol vessel HMS Pursuer. A new statue of the 'international sailor' unveiled on the Seaeagle site and dedicated to 'all those of all nations who lost their lives.' This event happened on the Saturday by the Commodore and Chief of the Maritime Reserve Forces HRH Prince Michel of Kent. On Sunday a special service was held in St Columb's Cathedral (which among the colours laid up in the building is a Canadian/British white ensign, RAF ensign and US ensign,) attended by veterans, cadets and representatives of the Merchant Navy and Navies of the UK, USA, Canada, Australia and Norway. After this wreaths were laid at the city war memorial and Prince Michel dropping a wreath in the River Foyle from the patrol vessel Pursuer. During this I got a picture of the vessel on the Foyle flying the Royal Standard used by members of the Royal Family:
HMS Pursuer carrying Prince Michel and wearing Royal Standard
Its a rare site to see a patrol boat wearing a Royal standard so I though I would share it. The Royal Standard used in this case is the version with an ermine boarder. This version is used by members of the Royal Family who have not been granted their own arms:
While I am talking about the events of last weekend I might as well show you the badges of the two Royal Navy ships in the city for the events. The ships badge of HMS Bangor and HMS Pursuer: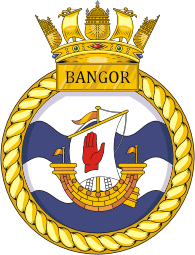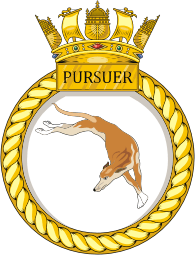 hope you enjoyed this as it is quite rare to see warships fly Royal Standards, especially as Prince Michel is a Rear Admiral, and could have used the RN rank flag, which is normally used in cases like this:
Rear Admiral rank flag, rank flags are more commonly used on board ships rather than Royal Standards
All comments welcome
none of the flags are my designs the picture of HMS Pursuer is by me.