Today HM Queen Elizabeth II becomes the longest reigning monarch in history, as well as expressing my own personal congratulations, I want to write about the flags I have seen today, as it was what you might call a day of flag waving.
The Queen didn't want to make a fuss and it was business as usual attending to her duties. Today she opened the newly built Boarders Railway in Scotland. The crowds that always seem to greet the queen wherever she goes were naturally waving both national flags of the UK and of Scotland. But most interesting to me was the royal banners used on the vehicles transporting her. As can be seen here the car that took her to Edinburgh Station flew the royal standard (Scottish variant):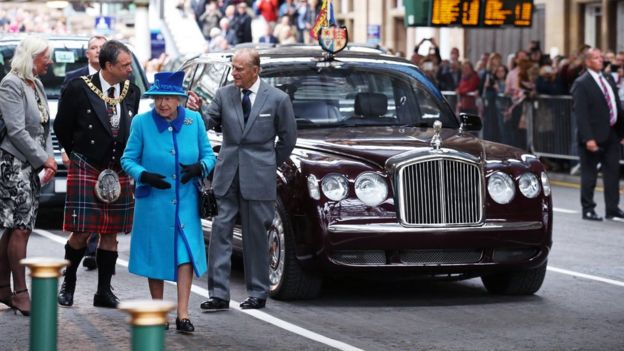 Nothing to unusual about that. From Edinburgh she took a train ride on the Boarders Railway stopping at two stations to formally open the railway. The train hauled by historic steam engine named 'Union of South Africa' flew the Ancient Royal Banner of Scotland.
Heraldically speaking this flag is still a royal banner and so this use is proper and correct from a heraldry viewpoint, But in practice this is unusual. The Crown does still use the Ancient Royal Banner but it is usually flown over royal residences in Scotland when the monarch is not present (being replaced by the royal standard when she is), or by representatives of the monarch like Lord Lieutenants or the Keeper of the Great Seal of Scotland (currently twinned with the office of First Minister). So for it to be used to signify the presence of the Queen is interesting.
South of the boarder a small procession of vessels of different shapes and sizes sailed up the Thames to the Houses of Parliament, past the HMS Belfast which fired a salute as the sailed by and under tower bridge (which was raised). Among the vessels was the Royal Barge 'Gloriana'. She flew a red ensign as her ensign,, from the jack staff a red pennant with 'Gloriana' in gold lettering. From the vessel's cabin she flew the flags of the Home Nations:
St George's Cross for England.
St Andrew's Cross for Scotland:
The red dragon for Wales:
And St Patrick's Saltire for Northern Ireland (because that represents the provence in the Union Jack):
These are the normal flags flown from the barge and unchanged since the Diamond Jubilee in 2012. But I noticed two other flags that I have not seen used on the barge before. The Ancient Royal Banner of Scotland already discussed and the Medieval royal banner of England the three lion passants on a red field. Very unusual to see the latter in formal use.:
An interesting array of flags to mark the passing of an interesting moment in history.